Build Confidence And Discipline In Your Child With Our Teen Martial Arts Classes
The teen years can be tough. There are a ton of different things calling your child's attention. There are a ton of things shaping the way your child thinks about the world.
At National Taekwondo Academy, we're here to provide teenagers from all across South Orange County with a place where they can feel challenged, supported, and celebrated.

Our Teen Martial Arts classes combine the best aspects of mental and physical development, helping teens take on the world of Taekwondo while also learning how to face life with more confidence than ever before.
Fill out the short form on your screen to learn more!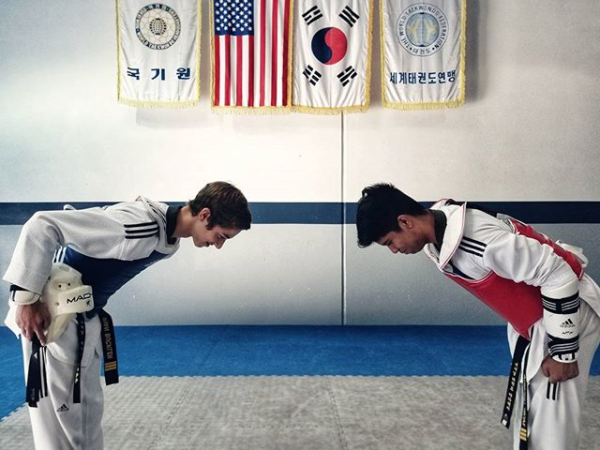 What Can You Expect From Our Teen Martial Arts Classes?
The goal in this program is to provide teens with an outlet where they can stay active and burn off their energy. We offer action-packed instruction in the world of Taekwondo and we surround students with professional instructors who can have their back from day one.
At National Taekwondo Academy, we're helping teens of all backgrounds and fitness levels find success by giving the chance to learn at their own pace. We maintain a safe and supportive facility where egos and intimidation are never a factor.
We're proud to help teens here in South Orange County take on:
Improved body control and athleticism
Proven bully prevention skills
Well-rounded strength, speed, and agility
Unwavering confidence in all aspects of life
And Don't Forget: We're Helping Your Teen Develop Those Core Character Skills That Will Serve Them For Years To Come!
Life comes at you fast when you're a teenager. And if you're not prepared, it can feel pretty overwhelming.
That's why our Teen Martial Arts classes aim to set your child up for success by teaching them those core character skills that we all depend on each and every day. Skills like courage and perseverance and discipline. The ability to stay motivated. The tools to respect others.

Our Teen Martial Arts classes surround students with positive role models and give them the chance to feel great about every single accomplishment.
We're offering everyone in South Orange County the chance to develop:
Effective communication skills
Proven conflict resolution strategies
An improved learning process
Patience and proven critical thinking tools
Don't Miss Out On Our Teen Martial Arts Classes Here In Aliso Viejo
At National Taekwondo Academy, we're challenging teens from all across our community to work hard and make their goals a reality. Our Teen Martial Arts classes are great for students of all experience levels.
Ready to get started? Start your free trial today!